VGB Conference "Steam Turbines and Operation of Steam Turbines 2014" with technical exhibition
21/22 May 2014 in Koblenz, Germany

The VGB Conference "Steam Turbines and Operation of Steam Turbines 2014" takes place on 21/22 May 2014 – Koblenz-Congress "Rhein-Mosel-Halle" in Koblenz/Germany.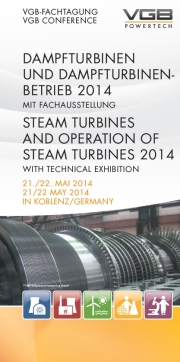 Aim of the conference is to ensure the steam turbine operation on a high availability and effectiveness also in the future. Changes of the market and the reactions on the manufacturer and operator side as well as in the complete service sector make this experience exchange still more necessary.
The conference is aimed at manufacturers, planners, operators, insurers and experts interested in technology and its environment, researcher and authorities.
As in previous years, our Co-operation partners will present themselves at a technical exhibition which will be part of the conference. During discussions at the stands and during the events accompanying the conference, all participants will have the possibility for intense exchange of ideas and for fostering and extending business relations with the service companies present.
This conference offers further aspects and chances for professional exchange, also beyond steam turbine operation.