VGB Innovation Award 2018 for energy storage technologies
The VGB Research Foundation awarded the VGB Innovation Award 2018 to Dr Efthymia Ioanna Koytsoumpa (32) for her investigations on energy storage technologies in power plants.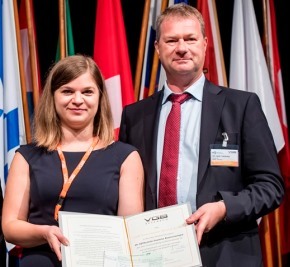 Dr Efthymia Ioanna Koytsoumpa won the VGB Innovation Award
Results of her work are presented under the title Renewable substitute natural gas synthesis integrated in power and gasification plants for energy storage in the VGB PowerTech Journal 12/2018. Download of the article is free of charge.
1969-2019: 50 years VGB Technical Group Performance Indicators
The Technical Group Performance Indicators celebrates its 50th anniversary this year. It is a golden oldie among the VGB committees. Besides always up-to-date tasks in the field of availability and reliability indicator of plants and components for power generation and storage, the members from about ten European countries look back on challenging times and are full of energy for the future.
In recent years, networking with other VGB committees is a trend carrying out joint special projects. All of these have in common that the TG Performance Indicators contributes prrecise terms, and methodological and IT experience.
In cooperation with experts of the Strategic Forum Wind, damages of main components are compiled. The target is for example to establish reliability indicators. This enables to check guarantees or maintenance contracts as well as to optimise the spare parts stock.
In cooperation with the TC Materials and Quality Assurance data of the power plant information system (KISSY) are analysed with focus on increased wear of components due flexible operation of conventional power plants. More frequent starts and load changes lead to shorter service lives, especially for thick-walled components such as live steam pipes or turbine and valve housings. Aim of the investigation is and optimisation of measurements.
Jointly with the TG Reference Designation and Plant Documentation, a group is working on software enabling maintenance and joint use of designation systems. Aim is to reduce the maintenance effort for different designation systems, such as RDS-PP and KKS, and to gain synergy effects for the KISSY database.
PowerJobs: Current vacancies
The VGB Job Market is offering prospective persons the possibility to develop their career in power and heat generation. You can find current vacancies on our homepage.