Compliance with new flue gas flow rate standards at power stations - Guidance to operators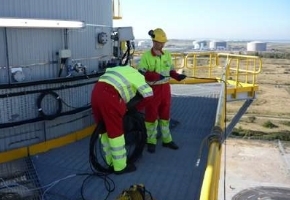 CCGT stack test location showing platform extension
Stack gas flow rate is required in order to calculate the stack exit velocity and the mass release rate of pollutants, such as NOx, for air dispersion modelling studies, and also for the inventory reporting of total mass emissions. Stack gas flow rate is normally calculated from the fuel consumption or plant output at power stations.
A publicly available report and Excel spreadsheet tool, from VGB Research Project No. 379, now provides important guidance to Operators of power plants regarding
the Quality Assurance (QA) applicable to their stack gas flow rate calculations and
compliance with EN ISO 16911:2013.
This industry guidance and best practice follows the QA process specified in EN 14181 for Automated Measuring Systems, i.e., Continuous Emissions Monitoring Systems, as adapted by EN ISO 16911. EN 14181 specifies three Quality Assurance Levels for plant monitors: QAL1 Certification; QAL2 Calibration and QAL3 Control. An Annual Surveillance Test (AST) is also specified in order to check the QAL2 calibration by means of annual stack testing using an accredited laboratory.
This QA process can be applied to flow calculations as follows: QAL1 Validation (a calculation audit and uncertainty assessment); QAL2 Verification (simultaneously satisfying QAL2 and AST statistical tests) and QAL3 Control (fuel, steam or electricity meter calibration and plant performance checks associated with the calculation inputs). An Excel workbook illustrates how the QAL2 Verification is accomplished and this has been applied to VGB field test results from a Combined Cycle Gas Turbine installation and a coal fired power plant with a 'wet' stack. The VGB field test data also indicate that it is possible to use any allowed manual stack test method for these plant types – which were not included in the original CEN validation study - provided that the level of swirl (tangential velocity) in the stack is low. Allowed methods include velocity stack surveys using various types of Pitot tube or vane anemometers and some detailed recommendations are given regarding the calibration checks that are conducted on these instruments. However, tracer gas dilution techniques are also allowed and, since these directly and rapidly determine the volumetric stack gas flow rate, the tracer dilution method has a number of specific advantages for verifying stack flow rate calculations.