VGB PowerTech Journal 11 (2017): Gas turbines; Combined cycle power plants; Materials: Latest developments and experience in power plant engineering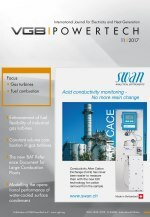 Editorial
The potential of digitisation

Some topics:
Modelling the operational performance of water-cooled surface condensers using the single-tube condenser model according to VGB-S-130 (Francisco Blangetti, Wolfgang Czolkoss and Lucas Borobia) Download ...
Enhancement of fuel flexibility of industrial gas turbines by development of innovative combustion systems (Nurettin Tekin, Atsushi Horikawa and Harald Funke)
The Triple Effect of Carbon Dioxide (Eike Roth)
Current topics in the "Entsorgungshandbuch für Energiedienstleister" (Kerstin Fetsch and Thomas Eck) Download ...
Latest media data 2018: Your advertisement in the VGB PowerTech Journal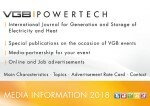 Also in 2018 the VGB PowerTech Journal will continue to provide current information and latest news and findings about the trends in the power business. Make advantage of our renowned journal and print advertising and address your customers and stakeholders to draw the attention to your products and services.
The focal issues and deadlines are listed in our editorial schedule supporting decision when to place you advertisement for the maximum yield. Get in touch with us, we would be pleased to make a bespoke offer to increase and improve your market position.
VGB Annual Report 2016/2017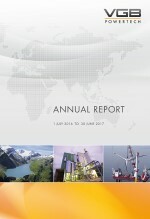 In this Annual Report, VGB PowerTech presents the results of its activities in the reporting period 2016/2017. VGB PowerTech bundles issues and tasks related to electricity and heat generation that are of joint interest for the power industry, i.e. operators, manufacturers, service companies as well as research and development institutes. VGB PowerTech also coordinates relevant activities of member companies with governmental institutions and additional partners in international cooperation worldwide.