VGB PowerTech Journal 11 (2018): Thermal generation; Flexibilisation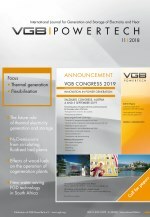 Editorial
Innovation in power generation
Some topics:
The future role of thermal electricity generation and storage of electricity in the Member States of the European Union – Security of supply with increasing shares of volatile renewable energies (Hans-Wilhelm Schiffer) Download ...
New water saving FGD technology in South Africa: CFB FGD demonstration plant (Annikie Moganelwa, Puseletso Godana and Sabrina Schäfer) Download ...
DeNOx utilizing Urea to Ammonia (U2A), operating experience leading to significant rupture of main ammonia delivery line (Kevin Harrington)
VGB Technical Services – Oil laboratory at Gelsenkirchen-Scholven site: VGB extends service portfolio (Christian Ullrich) Download ...
Latest media data 2019: Your advertisement in the VGB PowerTech Journal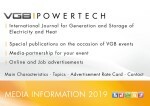 Also in 2019 the VGB PowerTech Journal will continue to provide current information and latest news and findings about the trends in the power business. Make advantage of our renowned journal and print advertising and address your customers and stakeholders to draw the attention to your products and services.
The focal issues and deadlines are listed in our editorial schedule supporting decision when to place you advertisement for the maximum yield. Get in touch with us, we would be pleased to make a bespoke offer to increase and improve your market position.
VGB-S-823-33-2018-07-EN-DE - RDS-PP® Application Guideline Part 33: Photovoltaic Power Plants – Now available as eBook!
The VGB-Standard VGB-S-823-33 covers the rules of the RDS-PP designation system for the photovoltaic power plants. This guideline provides detailed specifications for the reference designation of plant parts that are specific to photovoltaic power plants (e.g. PV array, PV inverter system).
For the designation of plant parts that vary from project to project, the guideline provides general guidance illustrated by examples, which has to be applied correspondingly to the specific case. This applies in particular to auxiliary and ancillary systems.
The VGB-Standard VGB-S-823-33 is written for the responsible for planning and operation of photovoltaic power plants e.g. planners, operators, legal authorities, suppliers, manufacturers, service providers, experts, research institutions, etc.