PEPP - Platform of Experiences with Power Plants
VGB PowerTech e.V., the European technical association for electricity and heat generation, since its foundation according to its statutes is organizing the exchange of experiences in the energy industry, e.g. to maintain and to improve the operational safety and the environmental protection.
So far this exchange of experience has been realized by means of committee meetings and their minutes, guidelines and publications, training and research. The exchange should be expanded in form of a database for the experiences in power plants with fossil and renewable energy sources – the database "Platform of Experiences with Power Plants", kurz PEPP.
The Idea - Development of a Central Exchange Platform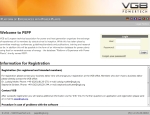 The data base PEPP should facilitate the proved ex-change of experience in the VGB committees, broad-ening and documenting it, so that the contributing companies:
Exchange experience faster,
Search systematic at any time and
Learn in a more structured way from each other.
The experience incidents ("cases") put in PEPP are meeting the aspiration to ensure benefit not only for the own company but also for other VGB members
The Benefit
is that
a specific search for professional topics in the en-ergy sector and a finding of solutions is easier than before, if necessary supported by subsequent con-tacting,
all VGB members is offered a central platform for the exchange of experience,
Experts could focus on "Cases" (experience incidents), whose "lessons learnt" (experience core) are of benefit to the VGB members,
The legal framework like competition law, data protection and other legal or insurance requirements to be respected.
The Structure
A case is an abstract (max. 3 core issues) of an incident or a process. The full version can be attached
Each case is allocated to different categories (phase, RDS-PP keys, and impact). Based on these categories a searching engine put together an effective hit list.
A case can be made anonymous in certain issues, that mean in this case not all information to the case are displayed.
A user can open and print published cases in the hit list and in the individual view.
Description of Process
The working process is performed in several defined steps, as the following diagram "case creation" shows. The author or "Unternehmensredakteur (UR)" (company editor) creates the case reflecting on the core points:
What has happened?
Why does it happened?
What can be improved in the future?
The company editor (UR) checks the case on compliance with the corporate interests and forwards it to the VGB editor "VGB-Redakteur (VR)". In case of non-compliance he rejects the case to the author.
The VGB editor checks the case on compliance with the basic rules and records it in the database or rejects the case back to the company editor.
Who can Contribute
The PEPP database is available free of charge to all ordinary VGB members.
VGB members who are interested to participate to PEPP should contact: